Deal Yourself A Winning Hand !
Did you know that Las Vegas welcomed 6,310,616 convention delegates in 2016? It must have something to do with the city's ability to deliver high quality entertainment with a ton of glitz and glamour. It's a city that attracts close to 42 million visitors a year by offering the grandest hotels, the biggest stars in entertainment, the highest caliber of award-winning chefs, and, of course, the brightest lights. So, get your team ready for the WWA Show, October 23-26, 2018.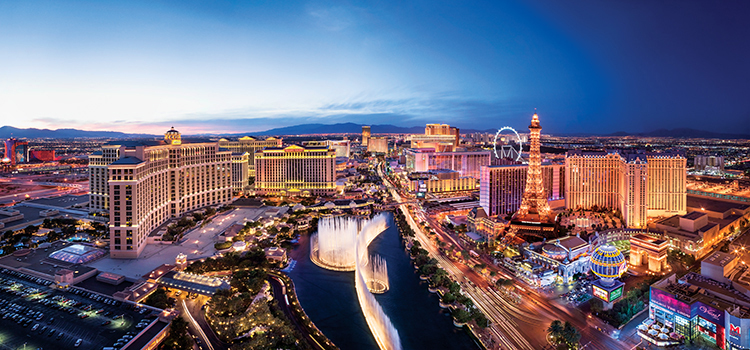 Entertainment Capital
There are many reasons why Las Vegas commands the title as "The Entertainment Capital of the World." Some of the world's most exciting and versatile entertainers have performed here including Celine Dion, Elton John, Jerry Seinfeld, Jay Leno, and so many more. And popular touring Broadway shows stop at the Smith Center for the Performing Arts in downtown Las Vegas.  Other entertainment options include A-list headliners like Brad Garrett, Ray Romano, and Kevin James who regularly bring their shows to Las Vegas showrooms and arenas; as well as several resident Cirque du Soleil productions, comedy clubs, magicians, classic Las Vegas showgirl revues, and more.
World-Class Cuisine
While planning an evening of entertainment, look to the growing roster of gourmet restaurants and unparalleled wine and food adventures in Las Vegas. A host of fine dining and lifestyle magazines – including Bon Appetit, Wine Spectator, Gourmet, Robb Report and Esquire – have honored the city for its fantastic fare and hailed individual restaurants for their exquisite cuisine, created by the likes of Hubert Keller, Alain Ducasse, Emeril Lagasse, and Wolfgang Puck. To accompany its growing list of world-class chefs, Las Vegas has attracted more master sommeliers than any other U.S. city.
Sizzling Nightlife
The city famous for having "something for everyone" furthers the proof to its claim when the sun goes down. After dinner, your clients can experience a variety of night spots with personalities as varied as their own. From elaborately themed clubs to the new wave of upscale "ultra lounges" sweeping the Strip, attendees can choose from a wide array of offerings, LAX (Luxor), Tao (The Venetian). Surrender (Wynn Las Vegas) is nightclub by night and dayclub by day, while there are several different venues downtown that brings nightlife and music to the Fremont East Entertainment District, including Commonwealth with a rooftop deck and speakeasy as well as Oak & Ivy, an intimate craft cocktail bar in the Downtown Container Park. With hip surroundings and signature drinks, ultra lounges have redesigned Vegas nightlife, providing a new way to party on the Strip.