The WWA's Board of Directors works with park and supplier members, as well as members working on WWA Committees to identify and honor worthy recipients for the Board Awards slate. These Awards recognize excellence in leadership, safety, innovation, training, etc., and honor people working at various levels within the water leisure industry. Hall of Fame inductees and Board Award honorees will be recognized during the General Session on October 17th at the Palm Beach County Convention Center in West Palm Beach, Florida, U.S.A.
To review a list of previous honorees, click here.
Nominations for the Leading Edge Award will be accepted through July 7, 2017. Please click on the link on each Award name to be taken to the nominations form.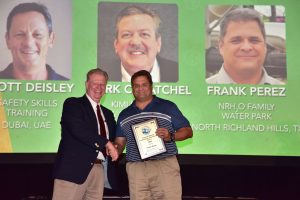 Leading Edge award:
Awarded to individuals or parks for creativity in the development of new themes, facilities, programs, services or operational concepts in the water attractions industry; and to suppliers who have developed new concepts, products or services to the benefit of park members, their customers and the water attractions industry.
Awards categories now closed for nominations:
Al Turner Memorial Commitment to Excellence award:
Awarded to individuals, parks or organizations that have through their consistent business and professional excellence provided leadership and/or fostered a sense of community in the World Waterpark Association membership. 

Executive Board award:
Awarded to an individual or organization for special accomplishments in the water leisure industry that have contributed to industry knowledge and expertise for the benefit of the WWA membership. 

Kelly Ogle Memorial Safety award:
Awarded to an individual or organization for significant contributions to guest and employee safety in the water attractions industry.
Hall of Fame:
The World Waterpark Association Hall of Fame exists to recognize and honor those individuals who have made noteworthy achievements in the development and advancement of the water attractions industry. The WWA Hall of Fame celebrates individuals who have reached a position of eminence through contributions that have provided outstanding service, innovation or advanced the WWA and/or the water attractions industry.