The Call for Presentations is now open! WWA's Education Committee is now accepting session proposals to speak as part of the educational program for the WWA Show, October 16-19, 2017 in West Palm Beach, Florida, U.S.A.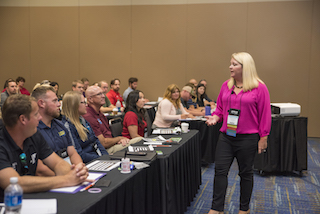 The deadline to submit proposals is March 15th, 2017. Review the online Presentation Proposal Form here.
Speakers at all career levels are welcome to submit session proposals on a variety of business-building topics. Our attendees come from public sector waterparks, resorts and traditional outdoor waterparks, and what they value most are practical, hands-on, park-tested tips and ideas from experienced waterpark professionals like you!
Just read through to a few testimonials from recent WWA Speakers:
"I enjoy speaking at the WWA show. I get to share ideas and learn from passionate professionals. This networking opportunity has been invaluable for my professional growth." – Cody Butcher, Great Wolf Resorts
"Speaking at WWA gave me a great opportunity to network with other professionals and attend a conference that I may not have been able to otherwise, due to budget limitations. While attending WWA as a speaker, I was able to connect with the Yas Waterworld team which ultimately led to receiving my current position." – Melissa Lockwood, Yas Waterworld
"Spea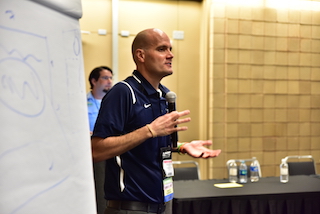 king at WWA is a win-win for many reasons: You gain exposure for your expertise; you elevate your status in the profession and you contribute to the advancement of the industry." – Ruby Newell-Legner, 7 Star Service
"Being a speaker for the WWA has given me the opportunity to connect with operators all over the world. By having those connections, I know that I have a vast array of professionals to reach out to whenever I need anything related to the waterpark industry." – Sasha Mateer, Deep River Waterpark
"From the free registration to the networking opportunities in the speakers' lounge, speaking for WWA has helped me grow as a professional as well as offered a cost saving opportunity to help my bottom line." – Kelli Allen, NRH20 Family Water Park
If you are ready to submit a proposal, then possible topics to cover include but are not limited to:
Revenue
Operations
Human Resources
Marketing, digital and traditional
Maintenance
Risk Management
Group Sales
Expansion
Food and Beverage
Merchandising
Financial Management
Social Media Marketing
Family Entertainment Centers
Development
Legal
Being a WWA speaker is a great way to build business connections and learn ideas to bring back to your own facility. Plus, invited speakers are offered complimentary registration to attend the WWA Show. (Presenters are responsible for their own travel expenses.)
To participate as a speaker in the World Waterpark Associations Annual Symposium and Trade Show educational program, keep in mind these simple requirements:
Please do not include commercial orientation or product/service presentations as part of your presentation.
Feel free to mention your company name and what you do for your firm at the beginning of your presentation – and also tell attendees they can talk to you in more detail after your session.
Incorporate handouts in your presentation – but make sure they focus on the material you are presenting. And do not use your company letterhead for the printing up the handouts. You may include a contact information page as a convenience to attendees to contact you for additional information on the final sheet on a handout.
Remember requirements 1 through 3. WWA attendees have come to expect that the presentations they attend will not be of a self-promoting nature – and when the sessions are, they let us know! Feedback from post-show questionnaires has revealed the audience prefers an overall view of your subject matter by not focusing only on your product or service in particular, which is perceived as commercialism.