The Emerging Leaders Scholarship Program is meant to give individuals who are under 35 and have less than 5 years in the water leisure industry in a non-managerial position at a seasonal or year-round facility or are students enrolled in college the opportunity to attend the WWA Show at little to no cost to them.
One full scholarship will be awarded in 2015. The recipient of the scholarship will receive a plane ticket to travel to the WWA Show (Up to $500 value), three nights covered in a standard room at the headquarters hotel (Up to $550 value), a $50 per day food and incidentals per Diem for up to four days (a $200 value) and a complimentary Symposium Package registration (a $399 value).
Should a recipient be unable to attend, the scholarship will pass to another candidate. There is no cash value for this scholarship and is only intended to allow a recipient to attend the WWA Show.
The application process for the 2015 Emerging Leaders Scholarship Program will open June 1st, 2015
As part of the scholarship program, the recipient will gain access to:
The recipient will also be introduced to various industry leaders and dignitaries and recognized during the Opening General Session.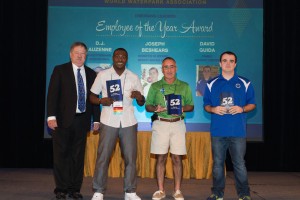 To be eligible for this scholarship, you must be:
Under 35 years of age

Working in a part-time or seasonal position at a waterpark, pool or aquatic center Or attending college as a full-time student. (Preference will be given to students enrolled in an aquatics program or an equivalent recreation management program, but neither are mandatory.)
Being a current Emerging Leaders Members is not required in order to apply for the Emerging Leaders Scholarship, however current EL Members will be given first consideration. Click here to learn more about the EL Membership or to join.
Emerging Leaders Members who apply for the scholarship and are not selected, may register for the WWA Show at a special price for Emerging Leaders. Please check back for a special registration form for Emerging Leaders.
2014 full scholarship recipient: David Guida (pictured above at far right), City of Summit Family Aquatic Center
2013 full scholarship recipient:  Justin Blair, Geyser Falls and Clearwater Key Water Theme Park.