Staying at one WWA HQ hotel provides you with two key benefits — First, you'll save $100 on your convention registration. Second, you'll be at the heart of all the action taking place at the WWA Show. The trade show, educational sessions, Keynote Sessions and Opening General Session all take place at the Ernest N. Morial Convention Center and the Hilton New Orleans Riverside. The HQ hotel is located adjacent to the convention center.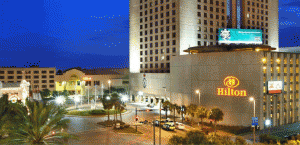 Hilton New Orleans Riverside*
2 Poydras St.
New Orleans, LA 70130
Group Rate: $199 per night, good for single or double occupancy room.
Book your room online or call +1-504-584-3959, Monday through Sunday, 7 am-6 pm CST. Please reference group code: WWA.
Please note: Each reservation will be charged a first night's deposit at the time the reservation is made.
Beware of housing pirates who may contact you to book a room outside of the WWA block. These housing pirates are not affiliated in anyway with the WWA and could be a scam and/or require significant deposits with unreasonable cancellation policies. To take advantage of WWA group pricing and avoid Resort Fees (or reduced Resort Fees, only book using the methods shown above using the WWA group code indicated.
*STAY AT WWA'S OFFICIAL CONVENTION HOTEL AND SAVE!
A $100 price break is offered on the Symposium Package for staying at the HQ Hotel listed above.
WWA will provide complimentary transportation to the WWA Golf Tournament and offsite networking events for registrants who lodge at the Official WWA Headquarters Hotel listed above.