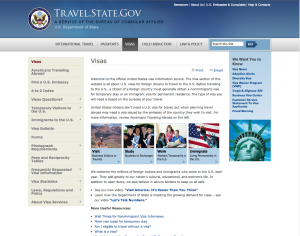 The WWA is excited to welcome international attendees to the World Waterpark Association's Annual Symposium & Trade Show to be held in one of America's premier travel destinations. Our goal is make your travel to the U.S. as pleasant and convenient as possible.
We are happy to help you make travel arrangements, hotel reservations, obtain U.S. visa invitation letters, arrange for translators to attend the education sessions and trade show with you, as well as make your registration for the convention easy. If you have special needs or would like the help of a WWA staff member, email Cathy Haggarty at cathy@waterparks.org or call the WWA Office at +1-913-599-0300.
If you need to obtain a visitor visa in order to attend the WWA Show, we encourage you to reach out to us as early as possible so that we may be able to provide you with an invitation letter and give you enough time to complete the approval process. We encourage allowing for at least 6 months before the first day of the WWA Show to obtain travel visa approval. This year's show dates are 6-9 October 2020.
Get started with this process here.
SPECIAL NOTE: The United States Department of Homeland Security requires international visitors from 27 "visa-waiver" countries to have a "machine-readable" passport. These countries are: Andorra, Australia, Austria, Belgium, Brunei, Denmark, Finland, France, Germany, Iceland, Ireland, Italy, Japan, Liechtenstein, Luxembourg, Monaco, the Netherlands, New Zealand, Norway, Portugal, San Marino, Singapore, Slovenia, Spain, Sweden, Switzerland and the United Kingdom. If you are traveling from one of these countries, check with your passport-issuing authority to confirm that your passport includes a barcode that can be read by U.S. Customs and Border Protection Officers when you enter the United States. (For more details, please visit the Visitor Visas site.)
For information about the Visa application process and wait times for a nonimmigrant visa interview appointment at a U.S. Embassy or Consulate, visit this link: travel.state.gov/visa
Department of Homeland Security: www.dhs.gov