Thursday, October 21
Keynote Session: "Stories In Leadership"
10:00am to 11:00am
Location: HemisFair Ballroom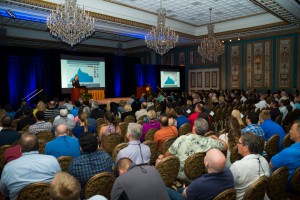 The lessons shared are pulled from life overall, and his more than 25 jobs through more than 35 years in business. Mark Rucker will be sharing both difficult and rewarding "Stories In Leadership" that span from his early career to those during his time as an executive. Rucker will cover a wide range of key topics and leadership imperatives including:
Balancing life's key priorities while impacting people by deeply valuing and caring for them
Preparing for life through learnings while dreaming big and taking action
Team building with the right people using self and team awareness
Sustaining hope through you and helping team members form deep connections to your company
The importance of time and what leaders should be doing with it right now
Dealing with purpose through leadership difficulties, handling bad news, and making the difficult, but right decisions
This Keynote will help you to consider the vast qualities and attributes of both great and poor leaders. Most of the time will focus on those of great leaders, like credibility, choosing excellence over perfection and dialoging openly and communicating clearly. Rucker will even share a little of his "blueprint" for leadership that he used in his later years, and he will challenge you to put the learnings from the talk into immediate action. This Keynote Session is included in the Symposium Package.
This Keynote Session is sponsored by IALDA (in memory of Wally James) and WhiteWater.