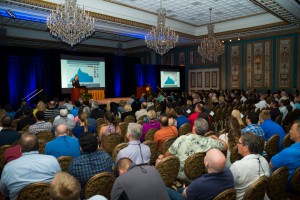 Consider what many lifeguards, waterpark attendants, wait staff and park operations people have in common. They are the type of front-line employee that is in high demand, and in dangerously short supply.
The list of unfilled positions has never been longer, and the rate of employee turnover in these types of positions has created an ever-growing mass of head-scratching waterpark owners and managers desperately looking for answers.
If you have had enough of the "I can't find good people" syndrome and want to get off the hire-fire treadmill, join the revolution of business owners, operators, leaders and managers who proudly proclaim, "We are FULLY STAFFED."
During this inspiring Keynote address by Eric Chester, you'll discover the secrets and proven strategies that savvy employers are using to win the war for skilled workers to achieve the desired status of being FULLY STAFFED. Key takeaways will include:
Increasing recruiting efforts by learning 5 tactics to find the best available talent—full-time, part-time or seasonal—in the water leisure industry.
Stabilizing application flow even when compensation is less than what is offered elsewhere.

 

Determining 'better fits' to ensure those workers that are hired are safe bets for long-term

 

employment, as well as ensure great seasonal workers return year after year.

 

On-boarding new employees to make a lasting impression and cement their commitment from day one.
Creating, developing and reinforcing the "7 pillars of an on fire workplace culture," i.e. Compensation, Alignment, Atmosphere, Growth, Acknowledgment, Autonomy and Communication to improve productivity, ignite performance and reduce employee turnover, i.e. 'churn.'
This Keynote Session is included in the Symposium Package.
This Keynote Session is sponsored by IALDA and WhiteWater.