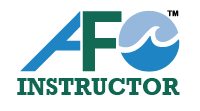 The Aquatic Facility Operator Instructor (AFOI) Workshop is an exclusive professional development opportunity designed to prepare new instructors to teach the AFO certification course. Potential attendees must apply to the AFOI workshop. Once accepted, you will receive instructions on how to register. For more information and to apply visit the NRPA website. Submit an application here.
Why Become an Instructor
Recognition as a content expert
Opportunity to share your experience and training with others
Network with hundreds of aquatics professionals nationwide
Potential revenue stream for your company or agency
Reduced internal staff training costs
Qualifications
The AFO Instructor Workshop has a highly selective application process. Only candidates who meet all of the requirements listed below should apply.
Instructors must have the following minimum qualifications:
Five years, full-time experience in aquatics or a related area.
High school diploma. Bachelor's degree in related field is preferred.
Two years of experience teaching or presenting to individual's high-school or older.
Must have successfully completed the AFO course.
Must be member of the National Recreation and Park Association.
Minimum of three years holding a national aquatics certification (AFO strongly preferred).
Cost to Attend
The AFOI Workshop fee is $400. Candidates must cover the costs of travel, lodging and additional fees associated with this course. Course Fees includes the following:
Instruction for the workshop by the Instructor Trainers.
Two lunches the days of the course.
One copy of the AFO Manual.
One copy of the AFO Instructor Manual.
AFO course slides and instructor material.
Workshop Outcomes
Please read through the levels of AFO Instructor status listed below. This information will help you understand the natural progression of an AFO Instructor. All individuals must begin at the AFO Instructor Candidate level and move up from there. Candidates who display a mastery of subject matter and superior presentation skill can become instructors after successful completion of the AFO Instructor Workshop.
Initial Step
Submission of the AFO Instructor Application.
Instructor Candidates
Candidates must have taken and passed an AFO course. They need to hold a current, unexpired certificate. Submission of a complete AFOI application is required to become an instructor candidate.
Provisional Instructor
Instructors in this level have been formally accepted into the program after participation in the AFOI Workshop. Instructors at this level must co-teach with a lead instructor. The number of required co-teachings is determined by the Instructor Trainer.
Instructor
Lead Instructors displayed a mastery of subject matter during the AFOI workshop or completed the required number of co-teachings at the provisional instructor level. Instructors can teach AFO courses independently.
Instructor Trainer
Instructor Trainers are Instructors that have shown a mastery of the course materials, technical knowledge and presentation skills. They have demonstrated exceptional competence in teaching effectiveness and in their course evaluations. They act as Instructor Workshop facilitators and evaluate the eligibility of instructor candidates for advancement to Trial Instructors. NRPA appoints Instructor Trainers on an as needed basis.
For more information about the AFO Instructor Workshop or Aquatic Facility Operator certification, contact customer service at customerservice@nrpa.org.